Grant Hill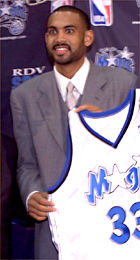 ORLANDO, Fla., Aug. 3, 2000 — The Orlando Magic have obtained five-time NBA All-Star forward Grant Hill from the Detroit Pistons in a sign-and-trade deal in exchange for Chucky Atkins and Ben Wallace, General Manager John Gabriel announced today. Per club policy, terms of the deal were not disclosed.
Hill (6-8, 225) averaged 25.8 points, 6.6 rebounds, 5.2 assists and 1.39 steals in 74 regular season games for Detroit during the 1999-2000 season. He was selected to the All-NBA Second Team after finishing third in the league in scoring, 20th in field goal percentage (.489), tied for 21st in assists, 21st in minutes (37.5 mpg), 31st in steals and 39th in rebounding. Hill led the Pistons in both scoring and assists.
Hill has played in 435 career NBA regular season outings, all with Detroit, averaging 21.6 points, 7.9 rebounds, 6.3 assists and 1.60 steals in 39.1 minutes per game. He has also appeared in 15 career playoff contests, averaging 19.6 ppg, 6.9 rpg, 5.6 apg. and 1.20 spg in 36.6 mpg. Hill was originally drafted in the first round (third overall) by the Pistons in the 1994 NBA Draft.
Hill has started in the NBA All-Star Game five consecutive times and led the league in voting twice (1995, 1996). He was named to the All-NBA First Team and captured the IBM Award, which measures a player's overall contributions to his team, in 1996-97. Hill was named to the All-NBA Second Team in 1995-96, 1997-98 and 1998-99. He shared the NBA Rookie of the Year award in 1994-95 with Jason Kidd, and earned All-Rookie First Team honors.
After leading the Pistons in scoring, rebounding and assists in 1998-99, Hill joined Elgin Baylor and Wilt Chamberlain as the only players in NBA history to have led their team in those three major categories at least three times. He has been named the NBA Player of the Week five times during his career and picked up NBA Player of the Month honors once.
Following his rookie campaign, Hill was named to the 1996 United States Olympic Men's Basketball Team, where he helped "Dream Team III" capture the gold medal in Atlanta. He was also named to the 2000 U.S. Olympic Team, but will not be able to participate due to injury.
The honors continue for Hill off the court as well, being named the NBA's All-Interview First Team in 1999-2000 and 1996-97. He picked up All-Interview Second Team honors in 1994-95, 1995-96, 1997-98 and 1998-99.
While at Duke University, Hill helped the Blue Devils win back-to-back NCAA titles in 1991 and 1992. Duke appeared in three straight NCAA Championship games, won three ACC regular season championships and one ACC Tournament title with Hill, who averaged 14.9 ppg., 6.0 rpg. and 3.6 apg during his collegiate career.
He was named consensus First Team All-America and the ACC Player of the Year following his senior season (1993-94), earned Second Team All-America honors as a sophomore and junior and was a consensus Freshman All-American. Hill became the first player in ACC history to record 1,900 points, 700 rebounds, 400 assists, 200 steals and 100 blocked shots. He was the eighth player in school history to have his jersey (33) retired.
Hill is married to four-time Grammy-nominated recording artist Tamia Washington. He is the only child of Calvin and Janet Hill. His father was a running back with three NFL teams from 1969-74 and 1976-81, and his mother serves as a consultant in the Washington D.C. area. Grant also served as vice-chairman of the 1999 Special Olympics World Games, held in North Carolina.
Back to the main page.