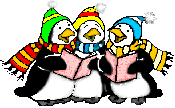 "How The Grinch Stole Christmas" by Dr. Seuss
Visit Santa at the North Pole!!
Visit the Bell Family for some Christmas fun!!
Come to Roo & Worms Christmas Party !
Gazillions of YUMMY Christmas recipes!!
Christmas recipes, crafts, wavs, and more!

















There have been little elves here to see this page since November 6th 1998

Back to Christmas Joy
On to Happy New Year!